Public Domain from pixabay
 
Growing your Google Review status should be a high priority for all local businesses.  It shouldn't be something that is left up to chance. Think of Google Reviews as having money in the bank, the more you have the more you can do.
But gaining thee reviews can sometimes be easier said than done.
So we've gathered the surefire-est ways to gain more Google Reviews as quickly as possible.
Read below to find out how…
Here Are Our 11 Tricks to Increase Google Reviews
1. Make Sure Users Can Leave Reviews
The number one thing you need to do to get more 5 star Google reviews is to make sure you have a Google My Business (GMB) page. It may seem obvious, but many small businesses don't realize they aren't obviously and immediately given a GMB page simply because they exist. They need to register the page and fill out the information completely. Once that page is created, fleshed out and verified, it can begin to collect reviews. Older businesses with a Google Places page will find that it has been transferred to a local GMB page, offering a solid starting point for a fleshed-out profile. One of the best ways to increase Google reviews at scale is to hire a professional online reputation management company such as Rize Reviews.
2. Ask!
Most times, the easiest way to get more reviews is to ask for them. Often, your customers will purchase a product and have a satisfactory experience using it, but they will never think to go back to your page and leave a review. The same goes for services, though some industries — hospitality and restaurants in particular — find it easier to accumulate reviews. Ideally, they will have followed one of your social media accounts or signed up for your newsletter as part of the purchase process. These are avenues you can use to ask your customers for honest reviews. Even mediocre reviews are better than no reviews at all.
3. Make it Easy to Leave a Review
To gather as many reviews as possible, link as closely to the review form as you can. Instead of linking to your basic GMB page or your website itself, link directly to the review page. Ensure a user has to click as few times as possible to reach the review page. If they have to hunt through your profile or your website for your GMB Local page and then hunt through that page for where to leave a review, they'll turn away. Consider each additional step a point of failure where you will lose some percentage of your possible reviews. 
4. Avoid Buying or Faking Reviews
Veteran internet users know what a legitimate review looks like. More importantly, they know how to spot a fake review. Several signs are a give away when you've purchased positive reviews or when you're deleting negative reviews. Writing reviews of your own business from personal accounts, buying reviews from accounts that leave purchased reviews are all signs that your business has something to hide. An additional risk of purchased reviews is that, when those false accounts are removed, your reviews may be removed as well. At the very least, they lose credibility. Fake reviews hide the truth and the truth is what you want to promote.
5. Get Reviewed Elsewhere
Bringing in reviews through GMB is one thing, but you don't want to put all your eggs in one proverbial basket. Plenty of users prefer to find reviews through Yelp, Angie's List or one of the many other sites offering business reviews. If you have no reviews on any of these sites, but plenty on GMB, your reviews look purchased. When asking for reviews, ask for them through any popular review site, not just Google. Allow your users to choose the site of their preference. Some users will also go the extra mile to post reviews on several sites.
6. Address Negative Reviews Quickly and Personally
You will inevitably garner a few bad reviews. One or two star reviews should be addressed as they appear, which means you need to monitor your reviews frequently. Don't delete bad reviews; users will know you're doing so and they don't forget. Instead, address each negative review in the comments on that review. Ask the reviewer to get in touch with your customer service department and work with them to make things right. If they cannot be satisfied — and some won't — don't sweat it. If you can satisfy others, ask them to reply to their original review.
7. Use QR Codes to Link to Review Pages
Mobile devices are ubiquitous among most shoppers today. This means nearly every consumer has the ability to scan a QR code and visit the site it links to. Printing a QR code on your promotional material, receipts or any other location that users see is a great way to link directly to a review page. This passively and effectively encourages users to leave reviews once they scan the code and see where it leads.
8. Encourage Public Testimonials
Nearly every business will receive an unsolicited review at some point. These comments, when negative, present an opportunity to provide customer service. What do you do, then, when they're positive? A private communication can't be taken and used publicly without the permission of the sender. What you can do, however, is reply and ask them to post their review on GMB and other review sites. This allows you to bring private reviews, which are doing you no good, into a public spotlight.
9. Add a CTA via Your Newsletter
The footer of your newsletter is a great place to add a link to your GMB profile, with an attached call-to-action. The users on your mailing list generally like your products or services and they're typically willing to leave reviews when they think about it and have the time. An appropriate time when they often are in the right mindset to leave a review is when they're reading your newsletter. A link at the bottom of that newsletter is very effective.
10. Review Partners and Other Businesses
You don't have to get all of your reviews from customers. Many businesses have partners in the industry. One trick you can use is to leave reviews of those businesses on their pages. It won't always work, but occasionally those businesses will reciprocate by leaving their own reviews on your page. This helps build your business relationship and boosts your reviews at the same time.
11. Provide Review-Worthy Service
You can use all the tricks in the book to bring in reviews, but they won't help you if you don't provide a stellar service or product worthy of those reviews. If no one is satisfied with your service, no one will want to leave a positive review on your page. Make sure your customer service is up to snuff and your products are satisfactory. You'll begin bringing in reviews organically and the rest of these tips will help you encourage more.
via 11 Tricks to Increase Google Reviews | SEOblog.com
In the battle of Yelp vs. Google reviews, there are a few massive reasons that Google reviews are better for business owners. Not only are they more visible and easier for customers to leave—there's also less competition, more impact, and more opportunity.
Does that sound too good to be true? Read on to see why you should make getting more Google reviews a high priority.
1. Unlike Yelp, Google Wants You to Ask For Reviews
Believe it or not, Yelp's official policy is that they don't even want you to ask for reviews.
Why?
Because Yelp knows that you're not going to ask for a review unless you think it's going to be a 5 star review.
Google's policy makes a lot more sense: not only do they want you to ask for reviews, but they even give you a link to make it even easier.
If you're in a high volume industry like lawn irrigation or plumbing, it makes sense to systemize your efforts and rely on your staff. On the other hand, if you're in a lower volume industry like roofing or damage restoration, it might make more sense to chase down each customer with an individualized approach.
(Pro tip: Whitespark has a much better Google review link tool.)
2. Google Reviews are Vital for Local SEO
If you're investing in SEO for your business (which you really should be,) Google reviews can give you a strong advantage.
In 2017, Local SEO Guide looked at 200+ local ranking factors, such as "total number of words on page" and "number of photos," to see which ones had the strongest effect on rankings in Google's local pack.
Out of the top 10 most influential factors, nine of them involved Google reviews:
Total additional organic rankings
Number of Google reviews that mention the target keyword
Number of Google reviews that mention the target city
Total number of Google reviews
Percentage of Google reviews that mention the keyword
Percentage of Google reviews that mention the city
Average yearly Google reviews
Number of Google reviews not responded to
Number of new Google reviews in the last year
Average weekly Google reviews
Google probably uses these reviews as ranking factors because they offer a direct way to gauge customer satisfaction.
If 100 people say you're a 5-star business, Google would be crazy not to show your business to shoppers just because you don't have enough words on your page or enough photos on your local listing.
Ultimately, Google wants to show users results that satisfy their needs, and reviews are one of the best ways they can judge user satisfaction.
So do Yelp reviews impact your SEO too?
Not really. Here's why:
Since Google and Yelp aren't exactly friends, Google can only guess how much Yelp works to prevent dirty tricks. If one person leaves ten reviews from ten different accounts on Google, Google should know about it, because Google can see things like their IP and if they've recently visited the business. But if someone sets up ten Yelp accounts to post fake reviews, Google can only hope that Yelp do something about it.
Ultimately, they can't trust it.
That's why Google should, and does, trust their own reviews more.
3. Google Reviews Generate Clicks & Calls—Even If You're Not Ranked 1st
What happens when you rank for a great keyword but nobody clicks on your site?
You don't get any business!
Let's say you're looking for an SEO agency in Pleasanton, CA:
(Note: this screenshot may have been edited just a little bit. Click here to see the real search.)
While Navolutions may be the top-ranked company, they also have a 1-star average. What's even worse is that they have 58 reviews—not only do they suck, but everyone agrees that they suck.
Local SEO Guide, meanwhile, doesn't seem to be doing so bad. While they're only ranked third place, they also have a healthy 4.7 star average with 9 reviews. Even if you don't pay any attention to the numbers, Navolutions looks pretty bad and Local SEO Guide looks pretty good.
Long story short, growing your reviews is a great way to earn clicks & calls, even if you're not the top ranked business.
4. It's Easier to Bury a Bad Review than Remove It
Removing a bad review from Google is tough.  While anyone can report a fake review, getting Google to actually remove it can be much more complicated. Get ready to contact their support line, provide evidence, and argue your case.
The truth is that no one expects you to have a perfect record, and having a few bad reviews can actually be a good thing. All you need to do is earn a lot more good reviews than bad ones.
5. Google Reviews Don't Get Filtered Like Yelp Reviews
If you leave a review on Yelp, there's a very good chance that you'll never see it again. Yelp loves filtering out reviews that they don't think are real, honest, and legitimate, but a lot of real reviews get chucked out too.
You won't have that problem on Google. Google doesn't remove a lot of reviews, for better or for worse. And if you're worried about getting too many Google reviews at once, don't be.
Stick with Google and you'll get to keep your happy customers and your reviews.
6. Yelp has Trust Issues
After polling more than a thousand users, Brightlocal found that 85% of people trust online reviews as much as personal recommendations. Meanwhile, 73% of consumers also said they trust a business more if they have positive reviews.
No matter what you personally think about online reviews, the people have spoken.
So why does Google get the edge here, even when their review platform has a lot of problems?
Because Yelp's trust issues are much more public.
It's not hard to find fairly candid discussions about people writing fake Yelp review for cash, whether or not you can pay Yelp to remove bad reviews, and whether or not Yelp sued South Park for slander. Add in a borderline abusive sales staff, a review filter that doesn't seem to make a lot of sense, a childish CEO and a troubled business model, and it's a wonder that they've made it this far.
At least for now, we think that a review on Google could carry more weight than a review on Yelp in the future.
7. You Can Leave a Google Review from Any Google Account
If someone wants to leave a review on Yelp, they'll need a Yelp account. They'll also need a few other friends and reviews if they don't want it filtered out. Unfortunately, that rules out a lot of people.
Meanwhile on Google, anyone with a Google account can leave a review. That means anyone who has ever logged into Gmail or YouTube is good to go,
8. The Competition is Lower on Google
According to their factsheet, 148 million reviews have been posted on Yelp to date.
For a long time, it was the go-to place to review and research small businesses, so businesses fought hard to grow their reviews.
Google reviews, meanwhile, still don't carry that same weight for business owners. Nowadays there are so many different sites and apps where you can leave a review that most business owners don't even know what to prioritize. Because of that, most businesses still haven't taken their Google reviews seriously.
With that in mind, check out your direct competition on Google. Chances are good that your big multi-million dollar competitor still has fewer than ten reviews, simply because they don't know any better. Do what it takes to beat their reviews and soon you could be beating their sales, too.
via Yelp vs. Google Reviews: Why Your Business Needs to Focus …
It's also the most likely to be used by consumers:
64 percent of consumers say they are likely to check reviews on Google before visiting a business — more than any other review site.
21 percent agree that Google business reviews are one of the most important factors in their search for a local business, ranking them as more influential than pricing information, proximity, and search engine results pages (SERPs).
Google's rise as the No. 1 site for online reviews makes sense. Consumers are likely to have user accounts on Google already.
That means there's less friction in leaving reviews of businesses. Many users will use products like Google Maps to show directions to the business on their  phone, which makes it easy for them to leave a review on a Google listing after a purchase.
With the growth of Google business reviews, it's crucial for brands to have a scalable way to track these valuable forms of feedback. You can start by using your Google My Business account for general review monitoring and management.
To see your Google reviews, just click the Reviews tab on your Google My Business home page.
 You'll be taken to a Google Reviews Dashboard that allows you to filter by "replied" or "haven't replied" 
Track Google Reviews
Online reviews on Google are posted by Google users who have to be signed in when they rate and write about your business. These reviews can be seen and managed using GMB. The reviews also appear in multiple places on the Web (via desktop and mobile devices), such as Google search results, Google carousel search results, and Google Maps.
GMB Review Alerts
To help your business track review activity, Google My Business will notify you of new reviews via email. The email notification includes useful review information like the reviewer name, star rating, a portion of the review text, and a link to the review on Google.
Here's what the email looks like:
A forum thread on the Google My Business community discusses a recent issue about Google not sending review notifications to users with more than 100 locations on their Google My Business account.
So far, Google has not announced a solution to this. Brand managers with over 100 locations should sign up for review alerts from a third-party service to stay on top of their new reviews.
Brands with over 100 locations cannot receive Google Review alerts through GMB.
Google will also send a notification to users if their review is attracting likes and views. These notifications can encourage consumers to leave more reviews whenever they visit other businesses.
When I Receive One Review, Will it Immediately Show Up in Search?
You need at least 4 to 5 reviews and ratings for these to appear in Google search results. Even with just 4 reviews, though, your business information can appear on Google search.
However, you won't necessarily get the "star treatment." To have your business show up and include your aggregated star rating (Google ratings are based on a five-star system), you'll probably need at least five reviews.
You'll need at least 4-5 reviews and ratings for your reviews to start to appear in Google search results.
My Google Business Reviews Disappeared!
Don't panic. To get your Google reviews back, just follow these steps, which will refresh your business' Google profile.
Step 1. Log into Google My Business.
Step 2. Open the Menu tab and click "Info".
Step 3. Look for the field that allows you to update your location or address on Google Maps, then click. It has a map marker as an icon.
Step 4. A popup will appear, allowing you to modify your location or address. Here's what you need to do: wiggle the map marker just a tiny bit and save.
This should refresh your business' Google profile. It should be back to normal within a few minutes.
If your reviews still don't appear, try clearing your cache. If this doesn't solve your issue, this article will explain how to solve disappearing Google business reviews based on other potential causes.
All My Google Reviews Are 5-Star Reviews. Why Do I Have a 4.7 Overall Rating?
Some businesses will have a total of, say, 6 or 7 reviews on Google My Business, with each one having a perfect 5-star rating. But then the overall rating on their page — the rating that appears on Knowledge Panel search results, Maps results, and their actual Google business listing — is less than 5 stars. Sometimes, it's 4.7, or 4.8, or 4.9, whatever; it's unexpectedly less than perfect.
The math just doesn't add up.
Here's why: Google doesn't calculate your overall rating by adding all your stars and dividing the sum by the number of reviews you have. It's not actually the average rating.
This is explained on a Google My Business help page:
"We calculate an overall rating based on user ratings and a variety of other signals to ensure that the overall score best reflects the quality of the establishment."
You'll notice that there's a vague but potentially crucial phrase in that sentence: "a variety of other signals."
What does this mean?
Industry observers and search experts suggest that Google has its own unique algorithm for calculating overall ratings.
Some believe that the search engine giant uses the Bayesian method for averaging, which means that, in situations where you have a limited sample size with only 6 or 7 reviews, Google's algorithm is designed to extrapolate or estimate what your overall rating might look like if you had more reviews.
So if your 5-star reviews are less than a certain number, Google is probably not going to calculate your rating in the straightforward way you expect them to.
Why? If you come to think about it, there's a potential issue when Google calculates average ratings the traditional way — an issue that could affect how consumers use search results and discover businesses.
If a business has six perfect 5-star reviews, it shouldn't necessarily rank higher or have a better rating than a business that has collected, say, 98 5-star reviews and a couple of 3-star reviews.
For one, the latter is more prominent (to use a Googly term, given that the search engine considers online and offline "prominence" as a key factor in search rankings), and therefore its overall rating or score will probably take into account review quantity as a signal in order to best reflect the quality of the establishment.
On the other hand, the former's sample size of 6 reviews isn't big, making it more likely that Google's algorithm would automatically factor in for error until that business gets more reviews.
Improving Your Google Ratings Accuracy
If review quantity is just one of "a variety of signals," then what are the others? And is there an exact number of reviews where Google draws the line between "We'll weigh this small number of 5-star ratings differently" and "The sample size is big enough"?
We can only really speculate — until Google decides to explain in greater detail how they do the math.
It doesn't mean that there isn't anything you can do as a business owner. And don't be too disheartened by the presence of a lower overall rating than your perfect 5-star reviews have led you to expect. In time, your brand presence on Google could more accurately reflect the 5-star customer experiences your business strives to provide.
Encourage customers to review your business. More and better reviews on Google not only help improve your search ranking; they also help you get an overall rating that stays true to the ratings of existing reviews you already have instead of relying on Google's estimates and predictions).
Share a link to a page where customers can write Google reviews. Not everyone has the time or resources to execute full-fledged review campaigns or NPS-based surveys.
If you have 2 minutes, you can easily come up with at least one way to generate more reviews: by creating a Google review link that customers can click to leave a review of your business on Google. (Just don't provide incentives for them to do it, though.)
You can share the link on a website page, across your social media profiles, in e-mails to customers, and even offline (think receipts or feedback cards).
Go beyond ratings and dig deeper into reviews. If your perfect 5-star reviews on Google have somehow produced a 4.8 or 4.9 overall rating, it's not really something you should be worried about.
Your score will improve sooner or later. Focus your efforts instead on digging deeper into your existing reviews. Read the actual text. What are your customers telling you in their own words? Have you noticed any common issues or trends in your reviews? What, specifically, did they love so much about your business that they decided to give you five stars?
By going beyond ratings and looking more carefully into feedback, you can achieve a better understanding of your customers and their experiences.
The insights you'll gain are going to be extremely valuable — and may even preempt, so to speak, the "errors" that Google, with their Googly Bayesian logic, might have factored into play. It's also your chance to prove that you're a 5-star business, whether you have 5 reviews or 500.
Respond to Reviews on Google
Online reviews on sites like Google give people a way to share their customer experiences not only with businesses but with fellow consumers, too. Consumers rely on these reviews in order to discover businesses and brands that provide the best customer experience.
Why Respond to Google Reviews?
Simply put, responding to your Google My Business reviews is an important part of managing customer feedback and protecting your brand reputation.
Take the time to respond to and communicate with your happy and unhappy customers — on all the review sites and feedback channels where they may be talking.
To help you respond faster, you can use these Review Response templates.
How to Respond to Reviews on Google
To respond to reviews on Google, log into your Google My Business account, select the location you'd like to manage reviews of, and click the Reviews tab on your Google My Business home page.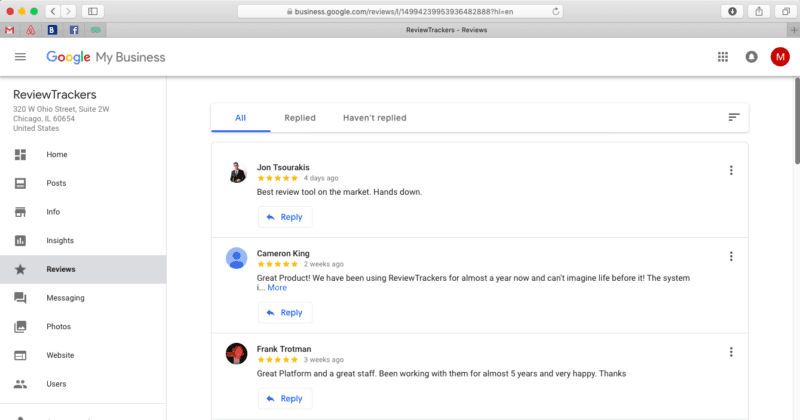 When you land on the Reviews page, you'll see each individual review that has been posted on your business listing initially organized by date. From there, you can respond to each individual review by clicking Reply.
Please note that your reply will be displayed publicly on Google and must comply with Google's local content policies. Once you've responded, you can edit your response to clean up typos. The review will appear with a new "View and edit" button on your reviews page:
Review Response Notifications
Google recently launched email notifications that inform customers when a business responds to their reviews.
The notification contains a link to a page with the business owner's response to the Google review. The business' response is published immediately and the email notification is sent to the customer 5 minutes later.
The 5-minute delay allows the business to edit or make any corrections to their response after initial submission.
Why do Google review response notifications matter?
Customers care about your responses. 53 percent of customers expect a review response within seven days. But as much as 63 percent say that they have never heard back from a business after leaving a review.
Responding to reviews ASAP can protect your online reputation. Review responses on Google can make a real and measurable difference — not just to the review-writing customer, but also to all other users and potential customers who visit your business' review page. Your responses can immediately improve consumer perceptions of your business.
On the other hand, not responding can increasingly be seen as actively ignoring customer feedback. According to a ReviewTrackers study, 45 percent of consumers say they're more likely to visit a business if it responds to negative online reviews. Moreover, 80 percent will feel like a business cares more about them if they see management responding to reviews.
Review responses can impact revenue. According to Cornell University, revenue increases and overall ratings improve as the number of responses to reviews increases. Failure to respond, meanwhile, leads to lower review scores and revenue. Your customers will certainly appreciate substantive, meaningful, and timely responses to their reviews.
Delete Google Reviews
Understandably, a negative review on Google can drive potential customers away. With such a powerful platform and, traffic-wise, the most popular website in the world allowing customers to share their negative experiences to others, the results can be crushing.
So a lot of people ask, "Is there a way to remove or delete a Google review?" The short answer is: No.
When you log into your Google My Business account in order to manage your online reviews, you won't find a "Delete" button under every review that you want to remove. (That said, you can flag offensive reviews. More on that later.)
The best thing you can do is engage with the person who left the review, solve their issues, and ask them if they can edit or delete their review once you've fixed their issue. 
Here's how your customer can edit or delete a review they have written. Customer opens Google Maps on their computer or device.
Step 1. In the top left, click Menu (3 horizontal lines).
Step 2. Look for "Your contributions," click, and then choose Reviews.
Step 3. Next to their review of your business, click More (3 dots). Choose an option (edit or delete) and follow the instructions.
Google does allow you to flag reviews that might be offensive. If a review violates Google's content policies…
Step 1. Sign into Google My Business.
Step 2. Choose your business location and click Reviews from the menu.
Step 3. Find the review you'd like to flag, click the 3-dot menu, then click Flag as inappropriate.
For more comprehensive information, read the blog post on how to delete a Google review.
Generate Reviews on Google
It's a great marketing strategy to try to get Google reviews for your business. Having more reviews helps your business locations show up in more search results, which in turn drives conversion.
Why You Need a Strategy to Get Google Business Reviews
It's not enough to just set up shop and wait for Google reviews to start pouring in. When left on their own, your GMB profile may accumulate customer complaints instead of genuine reviews. According to research…
Businesses that proactively request reviews enjoy higher ratings (average of 4.34 stars) than those that simply wait for unprompted reviews (3.89 stars).
By asking for reviews you'll get a more accurate sample of data from your customers.
If you don't ask, your review data sample will be biased towards those who are motivated to leave a review (usually people with a customer service issue). For this reason, you need to be proactive in asking your customer for reviews.
Of course, not all reviews generated by your "asks" are going to be positive. But that's not necessarily a bad thing. Negative reviews can also create structured opportunities for business improvement, while positive reviews can give you better guidance on what you are doing right.
Furthermore, having a steady stream of incoming reviews is not only beneficial for SEO purposes; it's also helpful for new customers who want to see recent reviews and get an idea of what your business is like now, not six months ago.
Before Generating Reviews on Google…
Avoid review-gating. Google doesn't want businesses to discourage or prohibit negative reviews or selectively solicit positive reviews from customers.
A practice commonly referred to as "review gating", it's normally done by sending customers a feedback or survey form — through email, SMS, landing pages, or social media. Based on their form responses, customers are then asked to either post a review on Google if they had a positive experience — or share details of their feedback privately if they had a negative experience.
Note: Google prohibits businesses from "review-gating."
This practice has allowed brands to filter out detractors from their review generation campaigns. But it's against Google's updated guidelines.
To stay compliant with Google policies and stay responsive to the ever-increasing demand for transparency and authenticity in reviews, make it clear to users that customers can leave you a negative review. Here are some effective tips for businesses wondering how to get Google reviews and build up their online presence.
Use Email
Do you collect customer email addresses at the point of sale or care? If so, then you'll quickly realize that email is one of the most effective ways to get reviews on Google My Business.
Synchronizing your review requests to your CRM or POS system allows brands to automate review requests. If you manage over 100Google My Business locations, you'll understand why automation is so important. There's no way to manually reach out to that many customers.
You can also integrate your Google review requests into your monthly newsletters. If you're sending a message to your customers, be sure to add a link to your Google business listing so that it will only take them a few clicks to share their experience.
Send SMS Campaigns
If you're syncing your point of sale system to send email alerts to customers, you can also send SMS requests. SMS open rates are significantly higher than email and can drive better engagement and more reviews.
Use Marketing Kit by Google
Marketing Kit by Google lets you create, download, and print personalized marketing materials and turn your reviews and business information into ready-to-use social posts, stickers, posters, and more.
The messaging in Google review stickers and other similar materials centers around promoting your business using customer testimonials, or requesting customers to find your business on Google and share their photos and reviews on the site.
Create a Google Reviews Link
Creating a unique Google reviews link and sharing it to your customers encourages them to review your business on Google. You can employ one of three methods – use a business short name, Place ID, or a simple Google search – to easily create a unique link for customers.
Make Your Customers Happy
The easiest, most effective, and most fundamental way to get Google reviews with 5-star ratings is to consistently deliver excellent levels of service and create "wow" moments with customers.
If, on the other hand, you have customers who are not satisfied or happy with their experience then make a point to reach out to them and identify and address issues.
Can You Link Facebook Reviews to Google?
For many businesses, Google will automatically link the reviews on their Facebook Business Pages to their Google account, so that their Facebook Recommendations, reviews, and ratings also appear on their business listings on Google.
Ideally, Google has a way to do this for all businesses. But it doesn't always work.
To give your locations the best chance of having their Facebook reviews pulled into their GMB listing, make sure your business information on your Facebook Page and your Google My Business account are exactly the same.
If Google sees the identical accounts, it might pull in your Facebook reviews. But there are no guarantees. And there's no "official" way to do this through the Google My Business dashboard.
via The Complete Guide to Google My Business | ReviewTrackers